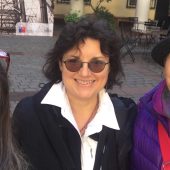 Margaret Bender (Ph.D., University of Chicago). Margaret Bender received her A.B. degree in English from Cornell University, her A.M. in the social sciences from the University of Chicago, and her Ph.D. in Anthropology also from the University of Chicago. Bender believes strongly that the study of language is essential to our understanding of cultures, persons, and events. She has studied the relationship between language and culture in a variety of contexts—from political rhetoric in Iran to family literacy education in Chicago. Most of her work, however, has centered around the Cherokee language and been based in North Carolina's Eastern Cherokee community. Focal areas have included literacy, language ideologies, linguistic sovereignty, and language revitalization.
Bender's current book project is The New Voice of God: Christian Language in 19th-century Cherokee, under contract with the University of Oklahoma Press and co-authored by Cherokee first-language speaker Thomas N. Belt. This book documents the world-changing encounter and transformation of culture and language that occurred as part of the intensive introduction of Christianity among the Cherokee people. Though Cherokees had been in contact with Christian Europeans since 1540, organized missionary efforts on the part of five Protestant denominations (Moravian, Baptist, Congregationalist, Methodist, and Presbyterian) began in 1799. Translating the Bible and other Christian texts into Cherokee presented many specific challenges and opportunities because of the extreme structural differences between Cherokee and European languages such as English. Following the lead of scholars like Whorf, Lucy, Silverstein, Levinson, and O'Neill, The New Voice of God argues that these linguistic differences encode basic predispositions and orientations toward the physical, spiritual, social and spatial worlds. The translations serve as a detailed record of this cross-cultural encounter and support the argument that macrosociological phenomena can be profoundly and intricately reflected in microlinguistic detail.
In recent years, Bender has worked with authors and artists to develop two new Cherokee language texts being used in language immersion education in North Carolina and Oklahoma. Linguistics minor Katie Von Bargen received a Wake Forest Research Fellowship in 2020 to help Bender demonstrate that the introduction of indigenous texts (not translations from English) leads to greater student exposure to language-specific grammatical and stylistic structures.
Bender's broader interests in scholarship and teaching include linguistic and educational anthropology, Native American cultures and languages, and anthropological theory. She teaches in Wake Forest's Linguistics Program and cross-lists her course, Language and Gender, with Women's and Gender Studies.
Before the arrival of Covid-19, Dr. Bender lead an annual October camping trip with students to the Eastern Cherokee Indian reservation for the Cherokee Indian Fair. She hopes to go again soon!
If interested, email Dr. Bender for details.
Latest Posts
Selected Publications
Under contract With Thomas N. Belt. The New Voice of God: Christian Language in 19th-Century Cherokee. University of Oklahoma Press.
Forthcoming The Semiotic Reemergence of Cherokee Country (with Thomas Belt and Hartwell Francis). In Legacies of "Time Immemorial" In Native North America: Continuity, Creativity, And Emergent Self-Determination. B. Perley, ed. University of Nebraska Press.
2021 Linguistic Landscape. In International Encyclopedia of Linguistic Anthropology. John Wiley & Sons.
2017 Wahya Galehi and Jeki-oosti. (Cherokee language children's books edited and published with a grant from Wake Forest University for classroom use at Atse Kituwah Cherokee Immersion School (https://ebcikpep.com/nka-elementary/); stories by Marie Junaluska and John Ross; illustrations by Luke Swimmer).
2015 Shifting Linguistic Registers and the Nature of the Sacred in Cherokee. In Registers of Communication. A. Agha and Frog, eds. Helsinki: Finnish Literature Society, Studia Fennica Linguistica Series. https://doi.org/10.2307/j.ctvggx2qk.17
2013 Language Loss and Resilience in Cherokee Medicinal Texts. In Trauma and Resilience in Southern History. U. Wiethaus and A. Parent, eds. Pp. 91-107. New York: Peter Lang.
2010 "Reflections on What Writing Means Beyond What it 'Says': The Political Economy and Semiotics of Graphic Pluralism in the Americas." Ethnohistory 57(1). (Link to Duke University Press; Requires WFU Login or other subscription to access.)
2009 Visibility, Authenticity and Insiderness in Cherokee Language Ideologies in Native American Language Ideologies: Beliefs, Practices, and Struggles in Indian Country (link to University of Arizona Press)
2008 Speaking Difference to Power: The Importance of Linguistic Sovereignty (co-authored with Thomas Belt) In Foundations of First Peoples' Sovereignty (link to PeterLang.com)
2008 Indexicality, voice, and context in the distribution of Cherokee scripts. in International Journal of the Sociology of Language, Vol. 192
(Link to article in Ebscohost requires WFU login.)
2007 Cherokees Prior to 1838 in The New Encyclopedia of Southern Culture, Volume 6 (link to UNC Press)
2006 Framing the Anomalous: Stoneclad, Sequoyah, and Cherokee Ethnoliteracy. In New Perspectives on Native North America (link to Nebraska Press)
2004 Linguistic Diversity in the South: Changing Codes, Practices, and Ideology (Southern Anthropological Society Proceedings, 37) (link to Amazon.com)
2002 Signs of Cherokee Culture: Sequoyah's Syllabary in Eastern Cherokee Life (link to UNC Press)
Signs of Cherokee Culture: Sequoyah's Syllabary in Eastern Cherokee Life (link to Amazon.com)
Teaching
ANT 111 – People and Cultures of the World
ANT/LIN 150 – Introduction to Linguistics
ANT/LIN 333 – Language and Gender
ANT 340 – Anthropological Theory
ANT 350 – Language, Indigeneity and Globalization
ANT/EDU 353 – Language in Education
ANT 354 – Field Methods in Linguistic Anthropology
ANT 355 – Language and Culture