Associate Teaching Professor
Academic Director of the Timothy S. Y. Lam Museum of Anthropology
Museum Anthropology
Office: Palmer Building
Phone: 336.758.5827
Email: gursteaw@wfu.edu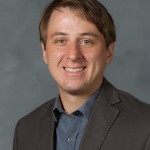 Dr. Andrew Gurstelle (Ph.D., University of Michigan) is a museum anthropologist and archaeologist. Dr. Gurstelle is the Academic Director of the Timothy S. Y. Lam Museum of Anthropology where he helps students learn to conduct anthropological research and curate exhibits. He actively researches the museum's 30,000+ objects which allows him to study a broad range of cultures over the past 10,000 years of human history. As a curator, he emphasizes putting objects in historical and cultural context.
Timothy S. Y. Lam Museum of Anthropology
Dr. Gurstelle maintains a research interest in the traditional arts of West and Central Africa—the sculptures, masks, musical instruments, metal castings, and beadwork from Africa taken into museums and galleries during colonialism in the 19th and 20th centuries. He has conducted research on Yoruba pottery, Kongo power figures, royal Kuba art, and blue glass trade beads.
Dr. Gurstelle also conducts archaeological and historical research in West Africa, including Ghana, Togo, and Bénin. He directed the Savè Hills Archaeological Research Project in Bénin which examined the early history and development of the Shabe Yoruba kingdom between 1600 and 1960 CE. Dr. Gurstelle and his colleagues mapped ancient village sites in relation to geographic features and sacred landforms. A second area of research looked at the material culture of the pre-Shabe population that has lived in the Savè hills area since at least 1000 CE.
Related to archaeological collections in the Lam Museum, Dr. Gurstelle has conducted research on Changsha Ware ceramics from China, projectile points from North Carolina, bone and ivory jewelry from Alaska, and mixed ceramic assemblages from Iran, Mexico, and Niger.
Journal Articles
2021 Object Lessons: Teaching Musicology through Museum Collections. Journal of Music History Pedagogy 11(1): 22-45. (Second author with Elizabeth Clendinning)
2015 Settlement History and Chronology in the Savè Area of Central Bénin. Azania: Archaeological Research in Africa 50: 227-249. (First author with Nestor Labiyi and Simon Agani)
2013 Sacred Trees of the Savè Hills Cultural Landscape. University of Michigan Working Papers in Museum Studies 10: 1-18.
2013 African Art and the Shape of Time (Exhibition Preview). African Arts 46(1): 72-81. (Contributor with Prita Meier and Raymond Silverman)
Exhibition Catalogs
2012 African Art and the Shape of Time. Ann Arbor, MI: University of Michigan Museum of Art. (Contributor with Prita Meier and Raymond Silverman)
Dr. Gurstelle supervises student interns at the Lam Museum. Interns work on independent projects in the fields of exhibit curation, collections management, and museum education. Interns can receive academic credit from Wake Forest University for their work over the course of a semester. Interested students should contact Dr. Gurstelle to inquire about current opportunities.
Dr. Gurstelle works with faculty in many departments throughout Wake Forest University to bring museum objects into their classrooms. Object-based learning creates a powerful connection to places and times that could not otherwise be experienced. He has collaborated with faculty in nearly every department and lectures on a wide variety of subjects.
In addition, Dr. Gurstelle regularly teaches courses on museum anthropology:
ANT 190: Introduction to Museum Studies
ANT 305: Museum Anthropology
He also teaches First-Year Seminars on archaeology:
FYS 100: Who Lives, Who Dies, Who Tells Your Story?: Revolutionary War Archaeology
FYS 100: Living in the Past: Experimental Archaeology